Oven Glue – Repair your oven / cooker door with the

oven door glue

kit
High Temperature Silicone oven glass glue
Only
£4.99

+ £1.40 for FAST 1st class UK post
(£3.20 Airmail to Ireland and rest of Europe, £4.50 rest of world)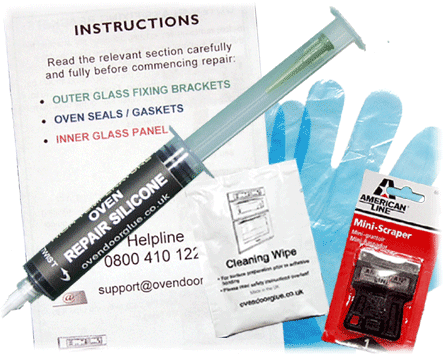 Overall Rating:

4.97 Stars from a total of 4480 reviews.
Or click here to Buy the standard Oven Door Glue Kit on eBay
This oven door glue kit has been specially designed for the repair of glass oven door hinges / brackets that have come unstuck. It can also be used for gluing the glass panels – read on for details.
As well as fixing metal brackets, hinges and glass in oven doors, many customers have also used the kit as an inexpensive repair to seals and gaskets (see the door seal page) that have come free in their ovens and around cooker hobs. Excellent adhesion can be achieved with most plastics, rubber, glass, ceramics and metals (we do not recommend that it is used on copper). The oven door glass adhesive is also perfect for gluing oven door panels around the full perimeter of the glass, where it is the original fixing method used. We recommend you read the advice Here for guidance on quantity of adhesive needed if gluing around the full panel.
This highest specification black silicone adhesive is suited to temperatures up to 300º Centigrade (572º Fahrenheit), which is well above a domestic ovens maximum temperature of around 250º Centigrade.
Most epoxy type adhesives are totally unsuited to this task, for example Bostik Araldite has a maximum temperature of just 65º Centigrade and even specialist high temperature epoxy glues generally cannot be used above 140º Centigrade.
As our customers reviews of the Oven Door Glue kit confirm, some unfortunately find us only after having spent time and money on trying other glues, without success.
Save time and money – the Oven Door Glue kit is designed specifically for the job; to ensure that the surface is ready for a lasting repair, and with the correct heat resistant adhesive for the task, you can have your oven repaired quickly and at minimal cost.
For specific tasks we also offer a clear oven door glue
Contains:
Oven Glue – High Temperature Adhesive / Glue, Industrial quality – as now used by Oven Manufacturers

Mini scraper to help with the removal of old oven glass adhesive

Specially formulated cleaning wipe to prepare the surface for the high temp adhesive and ensure optimal adhesion (please note that due to international postage restrictions we unfortunately cannot include the wipe in packages being sent outside of the United Kingdom).

Clear Instructions

detailing how to repair the inner oven glass door, the outer fascia oven glass panel and the oven door seals, the helpful instructions are often complimented by our customers.

We also offer a Freephone Telephone Helpline as well as online chat to assist you should you have any questions when carrying out the repair.
Click here to Buy this High Temperature Glue Kit on eBay
or use the Add To Cart button below and pay securely using Paypal
(you can pay as a guest – no account needed)